The Nabtesco name and our RV gearboxes have become well known in many industries that require automation solutions, offering industry-leading precision, performance and reliability. Many of our customers are well acquainted with our component series gearboxes and gearhead offerings, but we have also begun to release full positioner units utilizing our RV precision gearboxes.

RVP-A
The RVP-A is a 500 kg payload 2-axis positioner, utilizing our gearboxes and engineering design know-how to fit high performance in a compact package. The RVP-A unit comes in both high and low ratios for both axes, so you can effectively balance and maximize throughput and torque depending on your application.
Other options are available as well, such as covers and custom size tables. Just like all of our gearhead products, the RVP-A units come with all necessary parts to connect your motors to the unit and make installation simple and easy.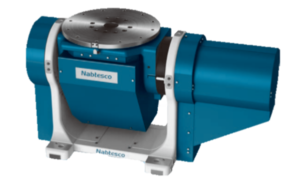 RVP-B
The RVP-B positioner is a complete trunnion positioner, including all necessary supporting structures and the tailstock section as well. With this complete unit, alignment between the headstock and tailstock is not required, and the height of the unit can be finely adjusted at several points.
We offer the RVP-B with the popular RD2-100C and RD2-160E gearheads, as well as the new RH-155C gearheads. In addition, the total span of the unit and many other parts can be customized, and parts can be purchased separately as well (for example, if you just need the headstock and/or tailstock sections).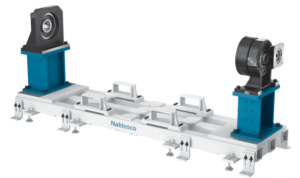 RVP-C
The RVP-C series is a high-payload turntable positioner equipped with a tilt-axis, which varies the height of the unit and can be used to allow robots to access areas that were previously unreachable.
In addition, the human centered design of this unit improves workability, reducing the burden on workers and the time required for setting the part and also improving mixed model production.
The unit has a max payload of 4000 kg, but a very high reduction ratio of 706.5 on the tilt axis helps keep inertia and motor sizes down.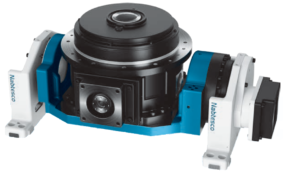 Please contact us with any questions you have about the RVP Series. We have some of these units in our brand-new showroom/ training center as well if you would like to see them in action!